LC-SAMPI Series SM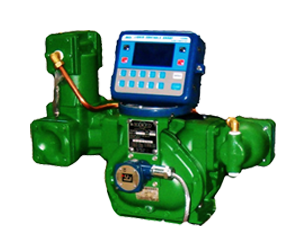 LC-SAMPI flow meter and measurement systems of the series SM
LC-SAMPI flow meter of the SM series are globally known for exceptional precision, reliabilty and longevity in many fields of applications. If flow measurements are needed, deliver these measuring instruments exceptional precise measurements, even at various operating conditions.
LC-SAMPI measurement systems of the SM series consist of a housing, in which two wings and one rotor of three cylindrical bore turn synchronously, without having metal-to-metal-contact within the measuring instrument element.
Main features of the series SM are:
• High precision and repitition accuracy
• Low maintenance costs
• Low pressure drop
• Autarkic operation without electricity
• Available with traditional mechanical seals or with magnetic operated pulse output instruments
• Weights and measures (worldwide) for the delivery of Verwahrung? with a mechanical or electrical registration system, that comply with API standards
• Electronical accessories, developed and licensed in accordance with ATEX 94/9
• MID compliant
• PED compliant

Typical media are:
Adhesives, agrochemicals, asphalt, animal feed, aviation, beverages, concrete mix, cosmetics, crude oil, dairy products, fuel, heating oil, industrial chemicals, liquid fertilisers, liquified gases, lubrication oils, pharmaceutic chemicals, paints and lacquers, printing inks, processed foods, refined petroleum products etc.
Specification:
Sizes: 1" 1/2 up to 4"
Flow rates: 19 l/min up to 3780 l/min (5 GPM up to 1000 GTM)
End connection: ANSI flange, NPT, BSPT, Slip Weld
Pressure stages:
Die-cast chassis: 10 & 25 bar (150 & 350 PSI) pressure without shock
Housing made of steel with two housings: 10/10, 10/21, 20/20, 20/50 bar (150/150, 150/275, 300/300, 300/720 PSI); ANSI pressure without pressure of 40/100 bar (600/1440 PSI)
Material:
Measuring bob, rotor and wings: aluminium, hard anodised aluminium, cast iron, steel, stainless steel
Seals: Buna "N", Viton®, Teflon®
For a non-binding offer please contact us on 05341 8697-30 or at info@fas-engineering.de